Sharjah Investment and Development Authority (Shurooq) has successfully concluded its participation in London's World Travel Market (WTM) 2016, the leading global event in the travel industry, which took place from November 7-9.
Shurooq made the best use of the three-day B2B event in promoting its portfolio of various tourism projects and leisure destinations and introducing tour operators and travel agents to the emirate's unique diversity of tourist attractions. A special focus was directed towards its latest mega-development, Mleiha Archaeological and Ecotourism Project.
Participating under the Sharjah Commerce and Tourism Development Authority's pavilion, Shurooq outlined the unique components of the project, most notably the invaluable treasures and cultural legacy left behind by successive civilizations throughout history. The Authority underscored the ecological diversity that distinguishes the project and makes it a unique environment for adventure and nature lovers and highlighted the new entertainment and sporting activities that make it an outstanding venue for family tourism.
Additionally, Shurooq conducted a series of high-profile meetings, led by His Excellency Marwan bin Jassim Al Sarkal, CEO of the Sharjah Investment and Development Authority (Shurooq), of which highlighted major investment opportunities in Sharjah's travel and tourism sectors, and discussed a variety of potential partnerships throughout the event.
Ahmed Obaid Al Qaseer, Chief Operating Officer of Shurooq, said: "London's World Travel Market is an exceptional tourist event that brings together more than 50,000 experts and exhibitors from across the globe to discuss the latest developments on the global travel sector and explore strategic partnerships and prospects for future collaborations. It also offers an excellent platform for travel and tourism professionals to promote the very best attractions in their own countries, including leisure and medical tourism, family tourism, shopping and business tourism, and much more."
Al Qaseer added: "Our participation in WTM was a major success as we managed to capture the attention of visitors to the Sharjah pavilion's and present the Mleiha Archaeological and Ecotourism Project. The response was highly impressive and the feedback we received was a resounding success."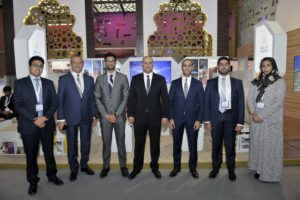 He emphasised that the ideal weather in the UAE for much of the year provides visitors with endless opportunities to enjoy open-air leisure and adventure activities. "Mleiha offers quad biking, dune buggy riding, mountain climbing, walking and cycling trips, gliding, and skydiving among many other activities that suit all family members or alternatively, they can simply enjoy the dramatic landscape in a calm and relaxed atmosphere."
The Shurooq COO continued by saying: "Although it has been less than a year since the opening of the Mleiha project, its position on the world tourism map has already grown tremendously. Through our strategy to promote the Mleiha project as a diverse destination, we have managed to draw more visitors and even attract major global events. Within a few days, for the first time in the Middle East, we will host the Spartan Race, one of the world's most challenging endurance races, which is expected to see the participation of thousands of contestants. We are clearly on the right path to attracting more major events in the future."
The World Travel Market brought together more than 5,000 exhibitors and 50,000 experts and specialists from 182 countries to discuss available opportunities and prospects within 38 tourism sectors. The three-day trade fair attracted over 100, 000 visitors.
(Press Release)