His Highness Sheikh Dr Sultan bin Muhammed Al Qasimi, Member of the Supreme Council and Ruler of Sharjah, inaugurated Al Noor Island, a unique destination in the emirate of Sharjah, on Tuesday in the presence of His Highness Sheikh Sultan bin Mohammed bin Sultan Al Qasimi, Crown Prince and Deputy Ruler of Sharjah, and Sheikha Bodour bint Sultan Al Qasimi, Chairperson of Sharjah Investment and Development Authority (Shurooq).
The opening ceremony was attended by HE Marwan bin Jassim Al Sarkal, CEO of Sharjah Investment and Development Authority (Shurooq) as well as a number of high-profile invitees and Sharjah officials.
The 45,470 square metre island, located in Khalid Lagoon next to Al Noor Mosque, has been developed by Shurooq to be a state-of-the-art cultural and leisure destination that engages people with nature and stimulates Sharjah's fast growing tourism sector. Al Noor Island is part of a series of world-class destinations created by Shurooq with the aim to stimulate Sharjah's vibrant tourism sector, increase tourist arrivals and contribute to Sharjah's tourism vision, announced by the Sharjah Commerce and Tourism Development Authority (SCTDA) to boost the tourism sector in the emirate, with a plan to attract 10 million visitors by 2021.
The island, which reflects the art styles of world renowned designer, André Heller, consists of a uniquely-designed, covered and streamlined structure inspired by butterflies' natural environment, a pedestrian bridge that will serve as an entrance to the island, a Literature Pavilion, a children's playground, an egg-shaped OVO Art Sculpture and unique, exclusively commissioned art sculptures from the pieces of world's renowned artists. The OVO sculpture combines three elements: wood, LED lighting and water vapour, and is characterised by its multisensory installation, where visitors can move through a light reflective water pool to reach the two entrances of the sculpture and enjoy the scenography and sound. The sculpture is built on a 12×8 metre panel, is 7 metres high, and has a 200 metre water pool that is 5 ml in depth.
Children can climb the trees and feel as though they are in a primeval forest in the children's playground. The ground is partially covered with sand and grass, and integrated lights cover all parts of the playground.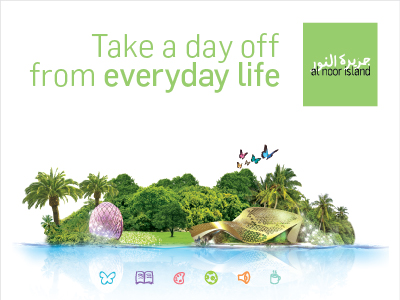 The island was designed by the famous multimedia artist and designer Andre Heller, the genius behind many famous landmarks around the world such as Swarovski Crystal Worlds in Wattens, Austria and who was commissioned to design green spaces and landscaping in the gardens of Schonbrunn Palace in Vienna.  It is designed to allow visitors to discover natural life across a spacious area covered by lighting and vegetation, operating with innovative technology.
Speaking on the occasion, Sheikha Bodour bint Sultan Al Qasimi said: "The inauguration of Al Noor Island was an exciting milestone event for Shurooq, representing the vision of His Highness Sheikh Dr Sultan bin Muhammed Al Qasimi to create unique destinations in the emirate that highlight the emirate's aesthetic and artistic values and cutting-edge architecture. The successful completion of this project positively illustrates our continued commitment to developing the emirate, both culturally and economically."
The first stop on the Al Noor tour was a visit to one of the island's main attractions, the Butterfly House, which is a nature-inspired structure with an ornamentally perforated shadow roof, biomorphic exterior, and plant-covered walls that hosts as many as 600 exotic butterflies extensively found across East and South East Asia, including the Danaus chrysippus, also known as the African monarch, the Doleschallia bisaltide, also known as the Autumn Leaf, and the Pachliopta aristolochiae or rose butterfly, which can be found across South East Asia and is known for its bright colours.  The island also boasts an exhibition displaying unique butterflies gifted from His Highness the Ruler of Sharjah in collaboration with the Environment and Protected Areas Authority in Sharjah. The space also houses a modern Noor Café, where visitors can have organic food and drinks.
Further, the island is home to 2,200 trees and plants. Over 70,000 additional plants were planted on the island, including the Bismarckia Nobilis palm, Hibiscus rosa chinensis mix and Acacia Arabica.
The tour continued onto the OVO art installation, which is a version of the famous elliptical shaped OVO sculpture that has been displayed with much fanfare in major cities, such as Beijing, Amsterdam, Brussels, Berlin and many more around the world. With its distinctive design and inspiring combination of colours and lights, the sculpture is set to present unique shows combining light with music through a collection of musical soundtracks inspired by nature and composed exclusively for Al Noor Island to give visitors a sense of tranquillity and serenity.
And then moved to the cactus garden and, finally, the Literature Pavilion, where guests had their last stop in the opening tour of the island. The blossom-shaped pavilion is an open seating area for writers, intellectuals and book worms, and an ideal haven for those seeking serenity and relaxation away from the hustle and bustle of urban life. The pavilion is surrounded by stunning light reflections of letters from Arabic calligraphy with mesmerising colours, and decorated with plush cushions for people to relax and read or to sit and talk with friends.
Throughout the tour, the honoured invitees passed by diverse art sculptures dotted around the island. Al Noor Island boasts eight unique and meticulously selected creative pieces commissioned by some of the world's most celebrated artists. The list of art sculptures includes David Harber's 'Torus', Susanne Schmögner's 'Sculptural Columns', the Fossile Rocks, the park benches and 3 deluxe Light Painting Pixel Stick Sculpture designed specifically to match Al Noor Island's theme.
Additionally, the island's buildings, walkways, trees and bridge are lit using advanced technology, completely transforming the landscape at night. Lights vary in intensity and colour throughout the day and are spectacularly reflected on all facets of the island's architecture. As part of its environmental commitment, Shurooq uses environmentally friendly lighting on the island, and makes sure to reuse water and save energy. The island is also friendly to visitors with special needs, providing dedicated facilities and access paths.
Al Noor Island will have a seaside stage that hosts a variety of activities. It also has a pontoon for boats that will transport visitors of Al Qasba, Al Majaz Waterfront and the Heart of Sharjah to and from the island. In addition, Al Noor Island boasts eight unique and exclusive art sculptures by some of the world's most famous artists, meticulously selected to suit the venue. The island has outdoor sitting areas inspired by nature and integrated with the aesthetic landscaping. A footbridge was designed to serve as an entrance from the main gate to the island. Visitors will use a 3500-metre walkway connecting different attractions and facilities of the island. The island also has a jumping and jogging track extended over 25 metres.
Shurooq carries out and develops tourism and leisure projects to boost the tourism and commercial activities in the emirate of Sharjah, improve the quality of life for residents and tourists, and achieve social, cultural, environmental and economic development.
Since its inception in 2009, Shurooq has developed a number of major projects, which have become some of the most visited destinations in the region, such as Al Qasba, Al Majaz Waterfront, Al Montazah – Amusement and Water Park, Flag Island, Heart of Sharjah.
(Press Release)