Improving oil prices, narrowing deficits and continued public spending are expected to support economic growth averaging 2.5 percent across the GCC next year, according to Moody's Investors Services, while the credit agency predicts 2.7 percent real GDP growth for Sharjah in 2018. In Sharjah's case, a wide range of achievements have helped it maintain stability in the face of regional economic uncertainties and position itself for future growth.
Sharjah's diversified economy, with no single sector comprising more than 20 percent of GDP, has helped cushion the local economy from oil price volatility. Supported by government policies aimed at fostering private-sector growth, the emirate's diversification has helped ensure continued investment into the economy. Aviation, construction, healthcare, manufacturing, real estate, retail and distribution and tourism were stand-out sectors during the past year.
2017 saw investment across multiple sectors of Sharjah's economy, including government-backed initiatives to encourage global firms, SMES and local startups to locate in the emirate. 'Invest in Sharjah', the Sharjah FDI office, expects foreign investment to exceed AED 1 billion (US$ 272m) by year-end.
New free zone initiatives
Launching Sharjah Research Technology and Innovation Park (SRTIP), Sharjah Media City Free Zone (Shams) and Sharjah Publishing City (SPC) in 2016, this year saw the opening of the new 40,000 square metre (430,560 sq. ft.) SPC and royal approval for the master plan for Sharjah Healthcare City. The creation of these new free zones forms part of a wider strategy to help prepare Sharjah's economy for the fourth industrial revolution by attracting innovative, knowledge-led ventures to Sharjah.
Sharjah's largest free zone, Hamriyah Free Zone Authority, launched 'Sharjah Food Park', a regional hub for the Middle East and North Africa's multi-billion dollar food industry, covering a total area of 11 million square metres (118 million square feet). In November, leading UAE halal food manufacturer Al Islami Foods opened its biggest food production facility in the Middle East in the zone.
Startup and entrepreneurship initiatives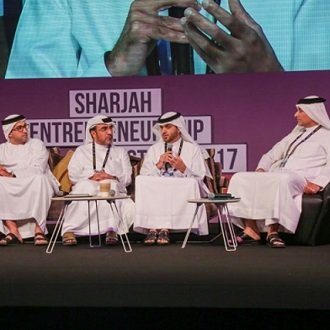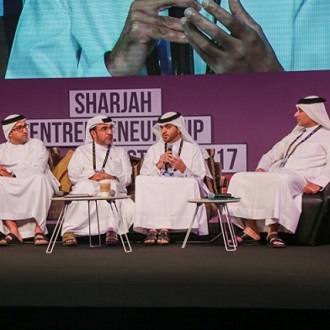 A number of government organisations have initiatives to help make it easier to establish new businesses in the emirate and encourage startups, including the formation of Sheraa, the Sharjah Entrepreneurship Centre.
Sharjah's efforts to welcome startups and help foster entrepreneurship were celebrated at the first Sharjah Entrepreneurship Festival in November, the largest such event in the UAE. Among other news from the festival, the Government of Sharjah announced plans to award 10 percent of all digital transformation projects to start-ups and SMEs (small and medium-sized enterprises), while Sharjah-headquartered diversified holding company Crescent Enterprises announced a new $150m venture capital division.
Real estate sector growth
2017 proved to be a pivotal year for Sharjah real estate as new master-planned property developments drove new investment in the sector and paved the way for future growth for years to come. Sharjah Real Estate Registration Department registered a 46 percent increase in the number of real estate sales transactions during the first six months of the year and announced a 37.2 percent increase in the value of real estate transactions made in the third quarter of 2017. According to global property consultancy Cluttons, rising demand pushed Sharjah villa rental prices up by 11.7 percent during the first six months of 2017.
Major real estate projects currently in development include the 14 million square foot Al Zahia Community, the 25 million square foot Tilal City, plus several new master-planned projects announced during this year. New developer ARADA announced the 5 million square foot Nasma Residences community in March and the AED 24 billion ($6.5 b) 2.2 square kilometre Aljada urban residential district in September. Meanwhile, Alef Group announced a AED 3 billion (US$ 820m) pedestrian-friendly residential development called 'Al Mamsha' planned for Sharjah city's Al Juraina area.
Tourism development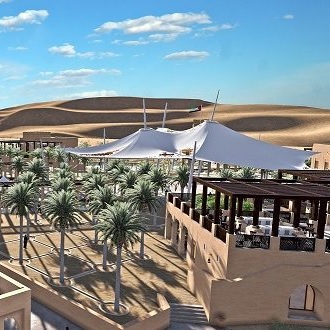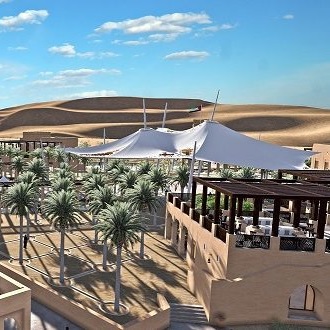 Sharjah's hotel sector has continued to expand across multiple segments of the business, fueled by growth in revenues, local economic development and innovation in the tourism sector. According to Sharjah Investment and Development Authority (Shurooq), Sharjah hotel revenues have been growing at 12 percent per annum and are expected to reach AED 830 million (US$ 227m) by the end of 2019. More than US$400 million of new Sharjah hotel projects have been announced during 2017 and the emirate's hotel pipeline now includes properties from Accor, Anantara, Hilton, Jannah Hotels and Resorts, Sheraton and Shurooq's Sharjah Collection.
This year has witnessed some of Sharjah's biggest tourism infrastructure and mixed-use real estate developments announcements in the emirate's history, including a 3.3 kilometre city beachfront development along Sharjah city's Al Montazah Road; a Sharjah Waterfront Bicycling and Jogging Path that is planned to connect the neighbouring emirates of Ajman and Dubai; the 364,000 square meter Maryam Island project; the 66,302 square metre Al Khan Village Resort; and Kalba Waterfront Mall. Shurooq also announced an AED 15 million (US$ 4.1m) extension to Al Badayer Oasis desert leisure and tourism development, bringing its total investment in the project to AED 60 million (US$ 16.4m).
2017 also marked the return of Russian tourists in high numbers. The emirate's inbound Russian tourism market was hard hit by the drop in value of the Russian currency in 2014, but the hotel sector saw a 94 percent increase in the number of Russian guests during the first half of 2017, according to Sharjah Commerce and Tourism Development Authority (SCTDA). Hotel's registered a total of 885,000 hotel guests during the first six months of the year, with. China, India, Oman, Russia and Saudi Arabia proving to be the biggest inbound tourism markets.
Sharjah International Airport expansion
The biggest aviation news of the year was the government approval of a US$400 million (AED 1.46b) budget for the expansion of Sharjah International Airport in February. US engineering consultancy Parsons Overseas Limited was then appointed to manage the project, which will increase airport capacity from 8 to 18 million passengers a year.
In July, Sharjah Airport Authority signed agreements with Gama Support Services, a division of global business aviation services company Gama Aviation, to build and operate a new AED 110 million (US$ 30m) purpose-built, integrated business aviation complex and provide ground handling services to business jet owners, business jets, and crew members. Gama took over the handling of all business aircraft the airport in January 2012 and opened a private terminal in 2014.
Sharjah International Airport handled more than 11 million passengers during 2017, with new commercial routes being launched by Air Arabia, Air India Express, Indigo and Rossiya Airlines.
Healthcare & medical projects
In addition to the greenlighting of the 2.43 million sqm. (26m sq. ft.) Sharjah Healthcare City masterplan, 2017 has been a busy year for the emirate's healthcare and medical sector. Some of this year's highlights include: the completion of the acquisition of Al Zahra Hospital Sharjah by NMC Health, a leading UAE-based healthcare provider, for US$560 million (AED 2.1b) in March; plans announced by Ahalia Medical Group to build a 100-bed general hospital in Sharjah Healthcare City (also March); the opening of Aster DM Healthcare's largest hospital in the United Arab Emirates, the new 120-bed Medcare Hospital Sharjah, in April; and the signing of an agreement between Canada and Sharjah to bring Canadian expertise to the emirate to develop a AED 1 billion (US$ 274m) speciality hospital in Sharjah focusing on paediatrics, obstetrics and gynaecology.
Continued expansion of retail sector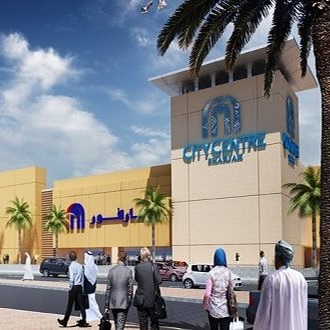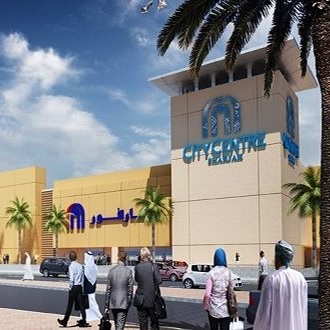 With an estimated 4 million square feet (370,000+ sqm.) of new shopping mall space in development, including both new malls and mall expansion projects, Sharjah's retail sector remains one of its fastest growing. The past twelve months saw the majority of work completed for the AED 260 million (US$70.8m) expansion of City Centre Sharjah; the master-plan for the 2.2 million square foot Tilal Mall was completed by developer Tilal Properties; while developer Majid Al Futtaim broke ground for the construction of the 2 million square metre (21.5 million sq. ft.) City Centre Al Zahia in Sharjah. Meanwhile, new shopping mall projects were announced in conjunction with Aljada, Al Mamsha and Nasma Residences real estate developments and Kalba Eco-Tourism Project (being developed by Shurooq).
Providing for Sharjah's growing energy needs
Supporting the emirate's growing demand for electricity, a number of key initiatives were announced during 2017. In May, Sharjah Electricity and Water Authority (SEWA) signed a gas sales agreement guaranteeing the supply of natural gas for power stations in Sharjah. SEWA also signed its first Build-Operate-Transfer (BOT) contract for the development of a desalination plant in Kalba. Now the authority is planning to use a BOT model for the development of its largest power station in Hamriyah.
In a major step towards leveraging renewable resources, Bee'ah, Sharjah's environmental management company, and Masdar, Abu Dhabi's renewable energy company, formed a joint venture that will develop the Middle East's first waste-to-energy plant in Sharjah. Bee'ah also signed an agreement with SEWA to buy electricity generated by the plant.
Sharjah on the world stage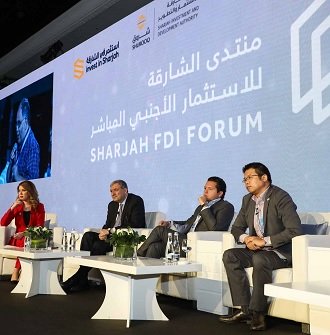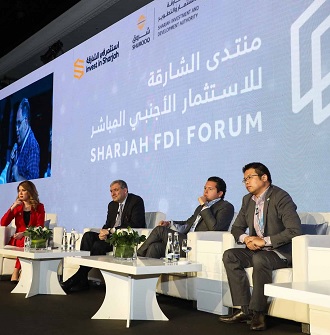 2017 has been a busy year for global trade, investment and tourism promotion, with delegations from Sharjah attending many key international events in Asia, Europe, the Middle East and North America. In May, Sheikha Bodour bint Sultan Al Qasimi, chairperson of Sharjah Investment and Development Authority was chosen to chair the World Economic Forum's Regional Business Council (RBC) for the Middle East and North Africa (MENA).
At home, Sharjah hosted the first Euromoney Emirates Conference in May and the third edition of the Sharjah FDI Forum in September, bringing global attention to the emirate's economic development and investment opportunities.
With 44 percent of next year's AED 22.1 billion (US$ 6 billion) government budget being allocated to economic development, Sharjah is expected to continue investing strategically in developing key industry sectors during 2018.
Source: Sharjah Update