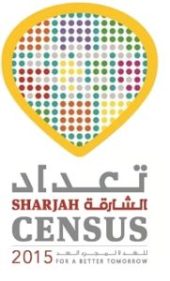 The results of Sharjah Census 2015 have been published by the Department of Statistics and Community Development in Sharjah (DSCD), revealing that more than 1.4 million people now live in the emirate of Sharjah. According to the census data, 88 percent of residents are foreign expatriates, 79 percent of residents under the age of 30, while 91 percent of the population lives in the city of Sharjah. The emirate's total workforce has been calculated as 855,709 people, or 61 percent of the total population.
Sharjah Census 2015 began in October 2015 with some 1,800 researchers, observers and volunteers conducting door-to-door interviews across Sharjah emirate. Residents were also provided the option of completing the census form manually or electronically, via iCensus, receiving a user name and password via their mobile phone. The main survey phase of the census was completed by the end of 2015.
According to Sharjah Census 2015, foreign expatriates total 1,230,417, making up 88 percent of the emirate's population. Males account for more than two thirds of the expatriate population totaling 834,542, with females counted at 89,098. Of the expatriate population, 454,597 males (63%) and 209,818 females (73%) are married, while 37 percent of males and 27 percent of females are either single, divorced or widowed.
Sharjah is home to 175,432 Emirati nationals, or 12 percent of the total population. Males and females account for 49 percent (86,325 )and 51 percent (89,098) of the Emirati population respectively. Of the Emirati population, 30,424 males (56%) and 29,728 females (51%) are married, while 44 percent of males and 49 percent of females are either single, divorced, widowed or abandoned.
Employment statistics
Data from the census shows that 76 percent of the 1.12 million residents over 15 years of age are employed, while 5 percent are full-time students and 6 percent are unemployed, retired, unable to work, self-supporting or carry out domestic work only. 95.1 percent of Sharjah's 855,709 working population are employees, 1.5 percent are self-employed and 2.1 percent are business owners.
About 82 percent of Sharjah's working population (575,610) have occupations in the private sector, while the federal government employs 4 percent (29,673), the local government 6 percent (45,434) and semi-government bodies 3 percent (17,688). Domestic jobs account for a further 5 percent, while diplomatic and foreign sectors less than 1 percent.
According to Sharjah Census 2015, there are 253,105 male and female students enrolled in educational institutions (aged four years and above), of which 22 percent are attending university.
Geographic distribution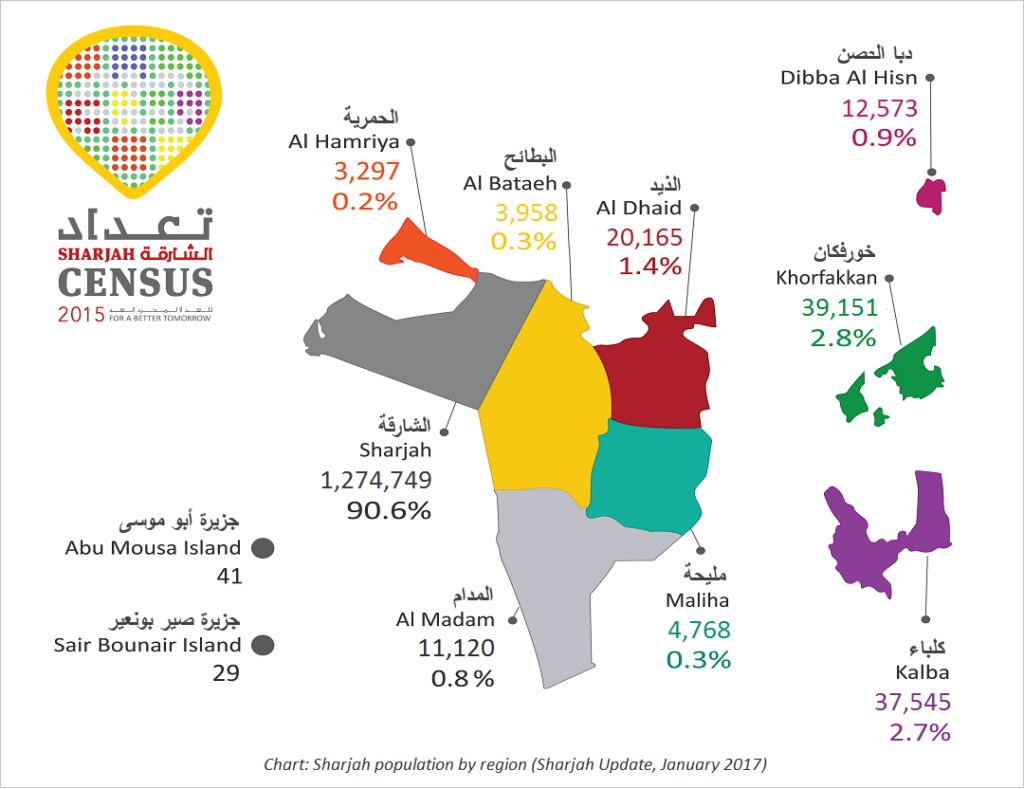 The census found 1,274,749 people living in Sharjah city, accounting for 91 percent of the emirate's total population. Bordering on emirate of Ajman in the north and Dubai in the south, Sharjah city is part of a metropolitan area of nearly 4 million people*.
Sharjah's east coast city of Khorfakkan was ranked second with 39,151 residents (2.8%), followed by the east coast city of Kalba with 37,545 (2.7%). Other notable urban areas covered by the 2015 census were: Al Dhaid city with a population of 20,165 (1.4%); Dibba Al Hisn city with 12,573 (0.9%); Al Madam city with 11,120 (0.8%); Mleiha city with 4,768 (0.3%); Al Bataeh city with 3,958 (0.3%); and Al Hamriyah city with 3,297 (0.2%).
The last census of Sharjah's population prior to Sharjah Census 2015 was carried out during 2005, counting the emirate's population as 793,573. Sharjah's population was estimated by officials at 1.1 million in 2014, accounting for about 12 percent of the total population of the United Arab Emirates.
Source: DSCD, other
* Independent statistic, not from census data