Sharjah International Airport registered a 10 percent year-on-year increase in passengers, handling 11 million passengers from January to December 2016. The airport passed the 10 million passenger mark for the first time in 2015, showing 5.5 percent growth. Since then, the airport has continued to show strong growth.
Airport passengers increased 12 percent during the first quarter of 2016, 11 percent during Q2 and 13 percent during Q3, reaching one million passengers per month for the first time in August 2016. Aircraft movements at Sharjah International Airport increased by 6 percent to 75,900 scheduled and non-scheduled movements in 2016 compared with 71,426 in 2015.
Sharjah International Airport's growth has been driven by its strategic location, the success of Sharjah's in-bound tourism industry and the expansion of Sharjah-headquartered Air Arabia. The airport's ideal location, close to Sharjah city, Dubai city and the main highways connecting the country's seven emirates, has made it a convenient hub for both business and leisure travelers.
Whilst Air Arabia hasn't yet announced overall figures for 2016, the airline served over 2.27 million passengers during the first nine months of 2016, a 14 percent increase compared to the 2 million passengers during the same period of 2015. The airline currently operates a fleet of 46 Airbus A320 aircraft offering flights to over 120 destinations in 33 countries from five hubs across the Middle East, Africa, Asia, and Europe.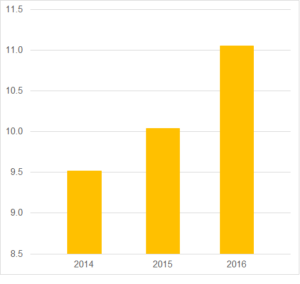 Sharjah's tourism industry has fared well during 2015 and 2016, despite global and regional economic pressures. Hotels and hotel apartments registered a 19 percent increase in room nights booked during the first nine months of 2016, totaling 2.94 million room nights, according to Sharjah Commerce and Tourism Development Authority (SCTDA). The Authority's tourism development strategy aims to attract more than 10 million tourists to the emirate by year 2021.
Meanwhile, Gama Aviation continues to expand its fixed base operation (FBO) at Sharjah International Airport. The global business aviation services company announced plans for its new, purpose-built Sharjah FBO, scheduled to open in mid-2018. The company has seen a 12 percent increase in aircraft traffic handled by its Sharjah hub during the past year and 33 percent growth in managed aircraft.
In 2014, Sharjah airport opened a new super-jumbo capable AED 500 million (US$ 136m) airport runway, significantly expanding the airport's capacity. More recently, the airport has introduced 16 smart gates to its arrival and departure halls, facilities for disabled passengers, a new automated baggage management system, plus a facilities for handling pharma and healthcare cargo. The airport has also begun construction of an additional bridge for passengers.
Sharjah International Airport's expansion and development falls in-line with its goal to serve 25 million passengers by the year 2025.
Source: Sharjah Airport Authority