'Invest in Sharjah', Sharjah FDI office's flagship driver for promoting investment opportunities in the emirate and a subsidiary of Sharjah Investment and Development Authority (Shurooq), recently concluded its participation at the Arab Aviation Summit in Jordan on 5 and 6 December 2016. This came as part of Invest in Sharjah's efforts to shed light on the myriad investment opportunities within the emirate in trade and tourism, driving profitable partnerships with regional and international businesses.
Themed 'Linking Cultures, Driving Economies', the summit featured keynote addresses, insightful discussion panels and interactive workshops. It brought together a Shurooq delegation led by H.E. Marwan bin Jassim Al Sarkal, CEO of Shurooq, Saif Mohamed Salim Alsuwaidi, Investment Promotion Manager at Shurooq, Mohamed Al Suwaidi, Executive Office Manager, ministers, officials and CEOs from various organisations around the world, who highlighted the crucial role travel and tourism can play in the growth of Arab economies. In doing so, they explored potential strategies that will allow long-term symbiotic private–public sector partnerships in developing the tourism market in the region.
In an interactive session, 'The Role of the Private Sector in the Development of the Arab Travel and Tourism Industry', HE Marwan bin Jassim Al Sarkal, CEO of Shurooq, discussed the key role private sector companies have played in ensuring the continuous growth of the Arab aviation and tourism industries, stressing on the need to further motivate and engage them to make bigger investments in the sector.
"The private sector's investments in the Arab aviation and tourism industry play a key role in the development of the overall Arab world's economies, particularly these two industries. Even though there are key companies from the private sector that have major investments here, majority funding remains governmental. This gives private service providers and businesses an ideal opportunity to tap further into these lucrative markets and establish strong business interrelationships with government sector partners, contributing to the industry's growth and sustainability," said Marwan bin Jassim Al Sarkal.
"It is true that the Arab Aviation and Tourism industry is one of the fastest growing globally, but to ensure its sustainability of this growth private businesses and investors need to come forward and make more substantial contributions. A free flow of FDI should also be allowed in these industries to further strengthen and modernise them. Furthermore, it's important that governments recognize the key roles which the media industry play through documentaries and movies when promoting key tourism destinations in multiple cities around the Arab region, as well as recognize the rising connectivity of users across multiple digital platforms when connecting tourists to multiple destinations through online applications," he added.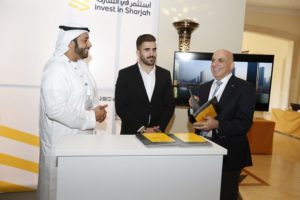 Al Sarkal stressed the importance of overcoming challenges that hold private companies from investing in the Aviation and Tourism industry in Arab countries, pointing out: "Borders are key obstacles that prevent investments, as they restrict the smooth movement of individuals and capital. The incompatibility of cross border laws and legislations also greatly limit expansion, making it hard for investors to quickly adapt to the rapidly changing business environment. Recognising this dilemma, Sharjah has over a period of time, enacted many laws that paved the way for fluidity of investment, capital, ventures and cash flow, in addition to simplifying procedures of residency and visa issuance for investors and tourists."
Excessive guarantees and bureaucracy, currency fluctuations, absence of political stability in many Arab countries, lack of an investment-friendly environment and a safety net against high risks were mentioned by Al Sarkal as other obstacles, which must be overcome. While recounting these challenges, he noted how summits and conventions like the Arab Aviation Summit are crucial solutions, ones that will lead to attracting FDI and reviving the industry.
Al Sarkal highlighted: "Sharjah is one of the most geographically and strategically located investment destinations in the world. We are connected through a 4-hour travel time with 35% of the world, and 8-hour travel time with 65% of the world. These advantages have truly enabled us to embark on strategic regulations to improve our local aviation sector, increasing private investment opportunities in the emirate."
"Our participation at the summit was a great opportunity to promote the potential for investments in Sharjah in these industries. The emirate has solid infrastructural and legislative provisions to support investors and provide them with the highest level of protection, stability and profit. Hotel guests as well as income, for instance, are witnessing a 13% annual growth annually, which speaks volumes about the lucrativeness of these sectors for private investors in Sharjah," added the Shurooq CEO.
Sharjah-Jordanian investment opportunities were highlighted through a series of high-level meetings between H.E. Marwan bin Jassim Al Sarkal and senior officials and ministers from Jordan, discussing bilateral business ventures between Shurooq and multiple private and government sectors from Jordan. Senior Jordanian officials meeting with Shurooq included H.E. Bilal Rabea Al Bodour, UAE Ambassador in Jordan, H.E. Eng. Yarub Al- Qudah, Minister at Ministry of Industry, Trade and Supply in Jordan; and H.E. Thabet Al Wir, President of the Jordan Investment Commission and, Chairman of the Jordan Enterprise Development Corporation (JEDCO).
Having launched its first edition in 2001, the Arab Aviation Summit is held annually in collaboration with aviation and tourism leaders, government entities, media representatives and other well-entrenched organizations, to discuss variety of topics relevant to key stakeholders in the aviation industry. The summit is the region's most prominent aviation and tourism event, which focuses on trends, insights and opportunities that drive the ongoing growth and development of this industry in the Arab world.
(Press Release)