Global business aviation services company Gama Aviation has announced plans for its new purpose-built, integrated business aviation complex at Sharjah International Airport, scheduled to open in mid-2018. The company disclosed architectural concepts for its Sharjah fixed-base operations (FBO) at the Middle East and North Africa Business Aviation Association (MEBAA) Show held in Dubai this week. Gama has registered a 12 percent increase in aircraft traffic handled by its Sharjah hub during the past year and 33 percent growth in managed aircraft.
According to Gama Aviation, the Middle East has a business aviation fleet of about 800 aircraft, with Saudi Arabia, Turkey and the United Arab Emirates accounting for 24 percent, 20 percent and 17 percent of the market respectively. The business aviation leader announced that it planned to invest in constructing new facilities following the opening of its private terminal at Sharjah airport in 2014. The current Gama Aviation terminal offers world-class executive lounge and crew facilities, in close proximity to key destinations in Sharjah city and Dubai, such as Dubai International Financial District (DIFC).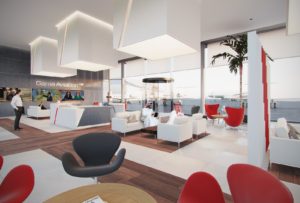 Plans for the new integrated business aviation facility, include a 100 metre long (328 ft.) aircraft hangar, able to accommodate business aircraft up to Airbus ACJ & Boeing BBJ size (ACJ aircraft are based on the Airbus A320 family, while BBJ are based on Boeing 737 commercial aircraft frames). The Sharjah hub will also offer 20,000 square metres (215,000 sq. ft.) of external aircraft parking space and Gama has an option to build a second hangar. The complex will also offer approximately 150 square meters of commercial office space. Construction will commence shortly, according to Gama.
Gama recently secured UAE General Civil Aviation Authority (GCAA) and European Aviation Safety Agency approvals to provide line maintenance for a wide range of business aircraft, including the Beechcraft King Air, Bombardier Challenger, Bombardier Global, Embraer Legacy , Gulfstream and Boeing Business Jets. The company also introduced new rates for 'Category Zero' handling for its Sharjah FBO earlier this year, to encourage the region's light aircraft users to use its facilities.
Gama Aviation began handling all business aviation services at Sharjah International Airport in early 2012 via a partnership with Sharjah Airport Authority and opened its own private aviation terminal in 2014. Investors in the Sharjah facility include Sharjah-headquartered Crescent Enterprises, Growthgate Capital and Sharjah's Department of Civil Aviation.
Source: Gama Aviation
Gama Aviation Sharjah FBO architectural concepts (click to view full size)