Sharjah Investment and Development Authority (Shurooq) has commenced the implementation of Al Badayer Desert Camp project, valued at AED 45 million (US$ 12.3m), which will become one of the premium leisure and adventure destinations in Sharjah. Expected to open by the end of 2017, the project will feature a unique set of experiences for desert adventurers within the golden sand dunes of Sharjah's middle region. Moreover, the project aligns with Shurooq's comprehensive strategy to develop a variety of Sharjah's vast oases and northern regions.
Shurooq's 24,000 square metres (258,334 sq. ft.) Al Badayer Desert Camp project includes an array of amenities and facilities that meet the needs of the most discerning of visitors, including its urban resort, desert lodge, restaurant and cafés. A main feature is its amphitheatre which will host live activities and multiple entertainment events under the stars. Additional facilities also include a mosque, recreational tents, shops, kiosks, turrets and shaded parking areas for cars and buses.
Al Badayer Desert Camp project is a 40-minute-drive away from the city of Sharjah and once completed will give visitors the opportunity to explore the wilderness and take exciting and challenging desert activities. When it's time to unwind, intrepid adventurers can make the most of the project's open-air courtyards and Majlis-styled lounges, which create an atmosphere perfect for rest and relaxation.
"Since its inception in 2009, Shurooq has implemented an array of leisure and tourist projects across all regions of Sharjah. The positive commercial effect of these projects has added value to the emirate's economy and contributed directly to the success of its economic diversification plan. Shurooq has been the major driving force behind this transformation, and through Al Badayer Desert Camp project we are pleased to begin the development of this project and to bring this diversification to life" said His Excellency Marwan Bin Jassim Al Sarkal, CEO of Sharjah Investment and Development Authority (Shurooq).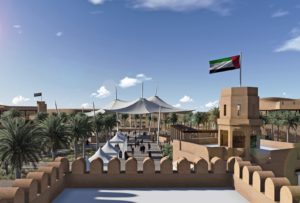 "Al Badayer Desert Camp project is one of Shurooq's foremost desert and leisure tourism projects in the UAE. Its importance stems from the fact that it is located within one of Sharjah's and UAE's most popular locations, where Al Badayer is renowned for being a premium destination for desert adventurers, 4×4 enthusiasts and multiple safari tour providers. By providing such an array of amenities and state-of-the-art facilities adjacent to this unique location, we aim to promote tourism in the middle region of Sharjah and across the emirate in general," he added.
"The implementation of the various phases of the Al Badayer Desert Camp project is underway and we anticipate that it will become a favourite destination for UAE residents and tourists alike through its array of services, features and entertainment offerings. We also expect that its name will become a byword for exhilarating desert exploration and adventures," Al Sarkal explained.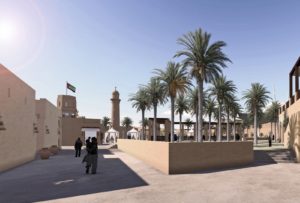 Shurooq is developing several leisure and tourist ventures in Sharjah, the most recent of which is the Mleiha Archaeological and Eco-tourism project which was launched at the beginning of this year. The facility represents Shurooq's growing interest in sustainable and Eco-tourism projects in line with its vision to develop environment-friendly destinations on a global scale.
(Press Release)
Al Badayer Desert Camp visuals (click to view full size)