Under the directives of His Highness Sheikh Dr. Sultan bin Muhammad Al Qasimi, Member of the Supreme Council Ruler of Sharjah, in ensuring the premium quality of living in Sharjah whilst preserving all natural and aquatic foundations in the emirate, Sharjah Investment and Development Authority (Shurooq) recently signed a Memorandum of Agreement (MoA) with Sharjah Environment Company LLC (Bee'ah), in a bid at improving and preserving the quality of water in Sharjah's Khalid Lagoon.
Under the terms of the agreement, Bee'ah will undertake a series of initiatives over a period of 12 months aimed at raising the standard of Sharjah's popular water feature, through a water circulation and filtration process which will be extended and periodically renewed through Al Qasba's access to the open waters of Al Khan lake.
Shurooq's decision to employ Bee'ah – the emirate's joint public and private environment agency – was in response to Bee'ah's report on the status of Khalid Lagoon and Al Khan Lagoon, both man-made extensions connected through the waterway at Al Qasba Canal. Among the problems identified in the report was Khalid Lagoon's current poor flushing status that has resulted in a build-up of algae, which, in turn has caused problems with offensive odours. The architects of the MoA that Bee'ah's proposals based on its studies report will dramatically improve the water quality in Khalid Lagoon and consequently the lives of residents in the locality.
"Shurooq has contracted Bee'ah since June 2015 to undertake water quality studies for both the Khalid and Al Khan Lagoons in Sharjah. The studies' findings were that Khalid Lagoon especially is subject to pollution from the various recreational sectors that have cropped up around it over the years. In addition to this, large parts of the lagoon are deprived of any natural seawater flushing its system, meaning that it remains stagnant, which has led to the proliferation of bacteria and algae, a main cause of bad smells that are an irritant to residents living nearby," said HE Marwan Al Sarkal, CEO of Shurooq.
Al Sarkal added: "We were successful in finalising this process thanks to the efforts and cooperation of Sharjah Municipality and Ministry of Public Works in Sharjah, of which Bee'ah is now added onto this roaster of government integration to ensure a complete and flawless process of safety, security and supporting Sharjah's premium lifestyle."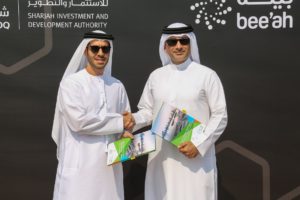 Included in the Bee'ah proposals is the changing of the gate opening timings at the Al Qasba Canal, which was constructed in an early attempt to improve the flushing of the Khalid Lagoon, but which has currently proved ineffective. Bee'ah will implement a Monthly Idealized Gate Operation Table, which will provide a database for the optimum opening and closing of the gates in the Al Qasba Canal to promote flushing. The company will also measure water outflow during these periods to assess improvement, as well as take regular water samples from Khalid Lagoon to measure oxygen levels, acidity, the presence of suspended solids, nitrate levels and levels of bacteria.
Bee'ah will also develop new 'Pollution Control Guidelines' for public and cargo ships to reduce the instances of discharges from vessels off-shore, which are contributing to the pollution of Khalid Lagoon. Included in the guidelines will be regulations on ship discharges and an extensive awareness and education programme for ship personnel, including fishermen, with the recommendations to be disseminated in conjunction with Sharjah Municipality Port Authority.
Also as part of the agreement, Bee'ah will conduct a number of public awareness programmes and campaigns to encourage public interaction and participation with Shurooq and Bee'ah's venture. Initiatives will include the organising of activities such as a 'One-day Underwater Waste Collection Event' designed to engage the stakeholders and focus the public's attention on the water quality problems in Sharjah and to increase people's appreciation of the resource and its conservation.
"Bee'ah is very pleased to be working with Shurooq to improve the quality of Khalid Lagoon. The agreement can be seen as an extension of our contract to monitor the lagoon's current status, which we have undertaken since 2015. Based on our technical expertise, we expect initial positive changes in the lagoon's water quality after one year. The programme is a long-term strategy that will see gradual improvements in the lagoon's water quality and a continual application of the recommended features by Bee'ah and Shurooq will be able to preserve and restore the lagoon's valuable ecosystem in the coming years," said His Excellency Khaled Al Huraimel, Bee'ah's group CEO.
(Press Release)