Sharjah's Al Bait Hotel, which is currently under construction, has won the Interior Design of the Year – Hotels Category at this year's 2015 Commercial Interior Design Awards, organised by Commercial Interior Design magazine. The designers of the new hotel interior, Godwin Austen Johnson (GAJ), also walked away from the event with an award for their work on JA Manafaru Resort in the Maldives and the prestigious 2015 Interior Design Firm of the Year.
GAJ is one of the largest and longest-established UK architectural and design practices in the UAE, with a 20 year history in the Emirates and offices in Abu Dhabi, Dubai, Sharjah and the United Kingdom.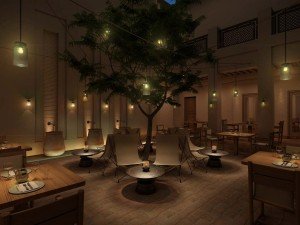 The 54 room, AED 120 million (US$ 33m) boutique Al Bait Hotel is being constructed in the Heart of Sharjah, the UAE's largest restoration project, which aims to restore the central neighbourhood to resemble its 1950s appearance. Masterplanned and managed by Sharjah Investment & Development Authority (Shurooq), the Heart of Sharjah is planned to be completed by 2025 and is already listed in UNESCOs tentative list of World Heritage Sites.
The design for Al Bait Hotel's interior has been developed to both create a high value luxury experience and to immerse guests in local heritage. The hotel will offer a combination of luxury rooms and suites, 24 hour dining, male and female spas, plus business services, a heritage museum and a library. The hotel is conveniently located near to Souk Al Shanasiyah, a 5,872 square metre traditional market area within the Heart of Sharjah, that is currently being reconstructed.
The Heart of Sharjah, now in its first of five development phases, will feature commercial, cultural and residential facilities. The development of the historic neighbourhood has been planned as a major tourist destination with restaurants, retail shops, art galleries, traditional and contemporary markets, archaeological sites, museums, play areas and commercial offices. Construction includes new buildings, reconstructed building and the renovation of historical buildings.
Shurooq plans to invest AED 5 billion (US$ 1.4b) in tourism development projects by the year 2018, in projects in Sharjah city, on Sharjah's east coast and on island resorts.
Source: Commercial Interior Design, Shurooq