Sharjah Investment and Development Authority (Shurooq) unveiled its plans for Al Noor Island at the Arabian Travel Market 2015 this week. The AED 80 million (US$23m) tourism and leisure project, which is currently under construction on the 45,470 square meter Al Noor Island in Khalid Lagoon in Sharjah, will combine nature, art and entertainment.
Scheduled for completion in the fourth quarter of this year, the new island development reflects the multi-media art styles of a world renowned designer. The leisure attraction has been carefully planned to inspires the senses with spacious landscaped areas with vibrant lighting, innovative architecture and multi-media experiences.
A core attraction, the Butterfly House, consists of a nature-inspired structure with an ornamentally perforated shadow roof and biomorphic exterior, which will house as many as 500 exotic butterflies native to a variety of countries. Butterfly species are expected to include the African Monarch (Danaus chrysippus), the Autumn Leaf (Doleschallia bisaltide) from India and the Common Rose swallow-tail butterfly (Pachliopta aristolochiae), which is found across South East Asia and is known for its bright colouration and unique pattern of its wings. The Butterfly House will also have a gift shop and a modern café for visitors.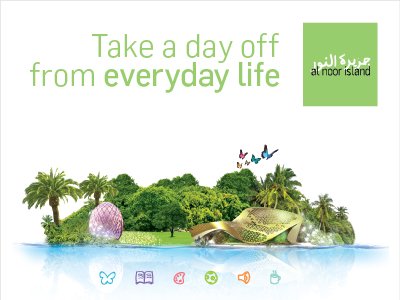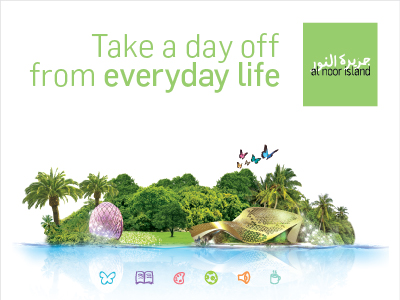 On the opposite side of the island, a blossom-shaped literature pavilion will provide a quiet, open seating area for those seeking sanctuary from the hustle and bustle of urban life. Other features of the island include a pedestrian bridge connecting the attraction to the shore, a children's playground and outdoor sculptures.
Since its inception in 2009, Shurooq has developed a number of major tourism projects, which have become some of the most visited destinations in the region, such as Al Qasba, Al Majaz Waterfront, Al Montazah – Amusement and Water Park, The Flag Island, Heart of Sharjah, as well as a number of projects currently under development, such as Al Jabal Resort, The Chedi Khorfakkan and Kalba Eco-tourism Project.
Source: Shurooq