Sharjah Investment and Development Authority (Shurooq) has started the second phase of the development of Flag Island in Sharjah's Khalid Lagoon, which is expected to enhance the island's appeal as a tourist attraction. The development is one of a number of high profile tourism and heritage-related infrastructure projects managed by Shurooq including Al Majaz Island and Al Majaz Waterfront developments, which are located on the lagoon.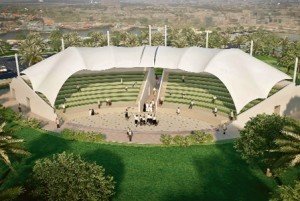 The 123-metre tall flagpole, which flys the flag of the United Arab Emirates, was erected in 2012 to mark celebrations of the UAE's 41st National Day and is currently the seventh tallest flagpole in the world. The second phase of Flag Island's development will create new recreational facilities and amenities for tourism and cultural events. The Island will soon feature an open-air 1000-seat amphitheatre, an art gallery, and a range of shops, restaurants and cafés. The new facilities are expected to be available to the public early next year. 2015 also marks Sharjah's year as the Capital of Arab Tourism, as voted by the Council of Arab Tourism Ministers.
The development of Flag Island falls in line with Shurooq's strategy to boost Sharjah's position as a tourism destination for residents and overseas visitors. Shurooq announced details of a AED500 million (US$136m) eco-tourism development on Sir Bu Nuair Island development last month, while another Shurooq project, the 4,500 seat Al Majaz Amphitheatre on Al Majaz Island was inaugurated in April with the commencement of Sharjah Islamic Culture Capital 2014 celebrations.
Other Shurooq development projects include Mleiha Eco-Tourism Project; Kalba Eco-Tourism Project; the Heart of Sharjah, the largest historical preservation and restoration project in the region; Al Montazah Park; The Chedi Khorfakkan Resort; Al Majaz Waterfront; and Al Qasba, a tourism and entertainment complex featuring Eye of the Emirates, one of the world's largest Ferris wheels.
Source: Shurooq, WAM